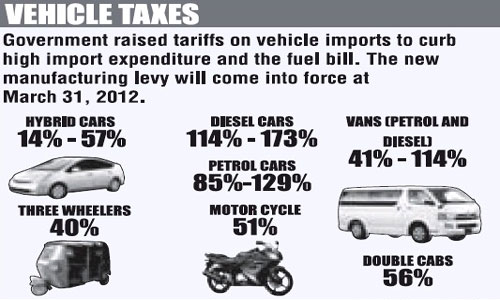 Janatha Vimukthi Peramuna (JVP) parliamentarian Sunil Handunnetti yesterday asked Treasury Secretary P.B. Jayasundera to clarify the situation with regard to the recent tax increase on the import of vehicles because of the confusion over how the taxes are to be applied.
Mr. Handunnetti asked how it would affect those who had already paid their taxes, opened letters of credit or on vehicles already on board and on their way to Sri Lanka or awaiting clearance at the Colombo Port.
He said the prevailing ambiguity or uncertainty could easily lead to fraud and other rackets. "The tax increase can be easily manipulated by unscrupulous traders to swindle money from unsuspecting buyers. It is essential for the Treasury to clarify these matters and remove any doubt in the minds of the importers and buyers," he said.
In a letter to Mr. Jayasundere, Mr. Handunnetti said many people were affected because of the non- availability of a comprehensive guideline with regard to the tax increase.
"The sudden and excessive increase in taxes has left many Sri Lankans including the business community greatly perturbed with the confusion on how it is to be worked out makes matters even worse," he said. On March 31, the Finance and Planning Ministry sent shock waves across the vehicle import trade by raising taxes on vehicle imports based on the engine capacity with vehicles below 1,000CC increased by 14 per cent and tax on those above 3000CC being increased by 57 per cent.
Production duties for cars and vans have been classified according to the fuel type used together with the engine capacity. The tax for cars that use Petrol under 1000CC increased by 85 per cent with cars having an engine capacity of more than 3,000CC being increased by 129 per cent. The category between 1000CC and 2,000CC were increased by 85 per cent.
Production duties on Diesel cars have been increased between 114 per cent and 173 per cent depending on the engine capacity.
However, due to the non-availability of accurate information has left all concerned in confusion.
Source: Daily Mirror - Sri Lanka