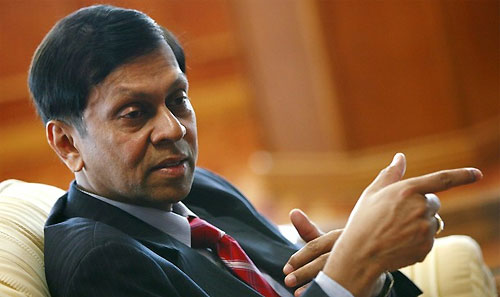 The government is required to settle the loan of US $ 500 million borrowed from the HSBC bank raised in 2007 for infrastructure development work, in October this year, officials said yesterday.
Govt. ready to settle entire amount in Oct. Central Bank Governor Ajith Nivard Cabraal told the Daily Mirror the government was ready to settle the entire amount of the loan in October. Mr. Cabraal said the country's foreign reserves had increased to US $ 6.1 billion now with the approval of the latest tranche of the International Monetary Fund's loan.
The main opposition UNP was critical of the government in 2007 when the government tried to raise this loan from the HSBC bank. The UNP also vowed not to repay the loan in case the party came to power during the period meant for the settlement of the loan.
UNP MP Ravi Karunanayake decried that the HSBC loan was used only for consumption oriented expenditures.
"We cannot say the loan was used for productive purposes. It was not used for development projects," he said.
The UNP MP said the rupee component of the HSBC loan alone rose by Rs.7.5 billion due to the devaluation of rupee value recently. Altogether, he said Sri Lanka's total debt burden had increased to Rs.480 billion, and 53.5 percent of the amount was external borrowings
Source: Daily Mirror - Sri Lanka