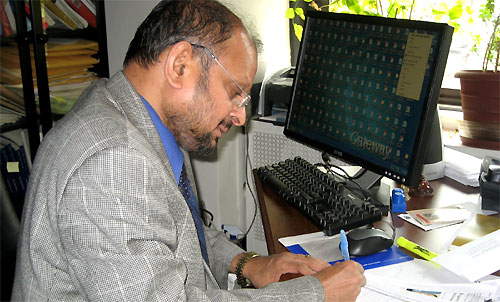 Minister of Power and Energy patali Champika Ranawaka yesterday called for the arrest of LTTE Leaders residing abroad and are trying to destabilize Sri Lanka once more.
Minister Ranawaka who was speaking during the adjournment debate on the Geneva resolution in Parliament yesterday said some LTTE leaders including Pushpanadanthan Rudrakumar who are residing abroad are planning to destabilize the country and disturb the government's efforts to bring about peace among communities. "There are terrorists moving about in the society freely today and they should be brought to book without delay," Mr. Ranawaka said.
The Minister who referred to the Geneva resolution said one should be aware of the circumstances which led to it. He said it was USA'S interests in the fast changing global situation which led that country to bring this resolution to the UN Human Rights Council.
The Minister explained that the Indian Ocean had become most important today when it comes to global economy unlike in the past where the Atlantic and Pacific Oceans were important in the global trade.
He said USA is eying Sri Lanka as it is strategically located. Minister therefore pointed out that Sri Lanka would be important for USA in its efforts to take control of the seas between Iran to Indonesia.
"USA is trying to intervene in Sri Lanka's affairs to fulfill this objective," he said. In this context he warned that the Geneva resolution would have adverse effect in the long run.
The minister therefore pointed out that destabilization of this country would only help Western forces such as USA. "All parties should get together in order to prevent such a situation," he said.
Source: Daily Mirror - Sri Lanka