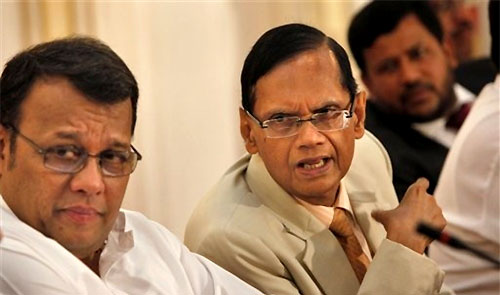 Sri Lanka has decided to restructure its diplomatic missions with emphasis being placed on countries such as Turkey, Nigeria, Azerbaijan, Seychelles and Mauritius, Minister of External Affairs, Professor G.L Peiris said.
Responding to media reports that the government was going to close down some missions in Europe in the aftermath of the Geneva resolution, the Minister said that it would be unwise to act in such a manner. However, he stressed the need to restructure several of our missions abroad in conformity with trends in the modern world.
"There are 193 countries in the world. Yet, we have missions in only forty-six of them. We have to restructure these missions depending on our needs. We will open a diplomatic mission in Turkey. The wife of the late Minister Mano Wijeratne will be our ambassador there. Also, we think of Nigeria, which has a population of 160 million is also worthy of a mission. In Azerbaijan, there is a huge demand for Sri Lankan Blue Sapphires, which means it makes sense to open one there too," he said.
He also spoke of the importance of developing diplomatic links with countries such as Seychelles and Mauritius for the development of the fisheries sector. "These are two islands, located at the southernmost corner of the Indian Ocean, have a very lucrative and developed fisheries programme and it is important to develop links with them," he said.
The Minister said that Sri Lanka had opened its missions in some of the countries decades ago, and the geo-political importance placed on them had diminished today.
"We started missions in some countries merely to promote our tea industry. Our tea business has declined in these countries due to their tax policies today. Also, some countries are not politically important to Sri Lanka today," he said.
Source: Daily Mirror - Sri Lanka