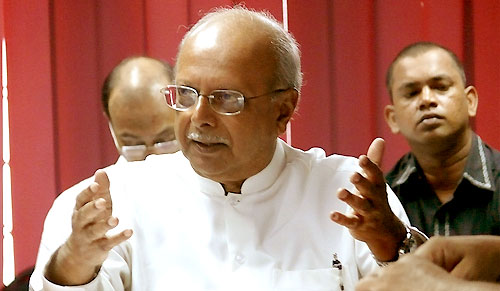 The Socialist Alliance sounded a warning yesterday saying that it was possible that the US and the EU countries would impose restrictions or embargoes for the worse if Sri Lanka did not take genuine effort to implement LLRC report.
The LSSP chief and Senior Minister Prof. Tissa Vitharana said though the UNHRC resolution did not provide for trade or economic embargo on Sri Lanka it is highly likely that the US and European countries could individually impose restrictions on Sri Lanka if LLRC re commendations were not implemented properly.
"The American government is using the Human Rights issue as a means of causing a regime change in Sri Lanka. They are trying to use HR issues to cause turmoil in small countries for their own benefit" Minister Vitharana added.
The American government had been in the forefront in passing the UNHRC resolution against Sri Lanka. They cannot afford to question Sri Lanka when they themselves have committed worse crimes" he said. "Europe and America depend on weapons trade and when countries like Sri Lanka finally attained peace they try to take it away from us:" he said.
General Secretary of the SLCP, Senior Minister D.e.w.gunasekara said the lesson we have been taught by the LLRC was that we must learn not only our good deeds but the blunders we have done since 1956.
"All political parties and the major political parties such as the UNP, SLFP, The Federal Party and the TNA in particular must take full responsibility for the destructions caused to Sri Lanka since independence and to the 30 year ethnic conflict that bled the country to its last drop of blood.
Minister Gunasekara stressed that the government had taken measures to implement most of the recommendations of the LLRC and other recommendations must also be implemented sooner than later.
"We have to put the country and the people's needs first when dealing with the international community. We should not let political differences stand in our way when protecting the country against international elements" Mr. Gunasekara said.language and National Integration Minister Vasudeva Nanayakkara said Cuba has put the US in its place when the world power imposed trade and fiscal embargo on Cuba.
Minister Nanayakkara noted that implementing the LLRC recommendations was the best approach to deal with the Human Rights charges.
Source: Daily Mirror - Sri Lanka