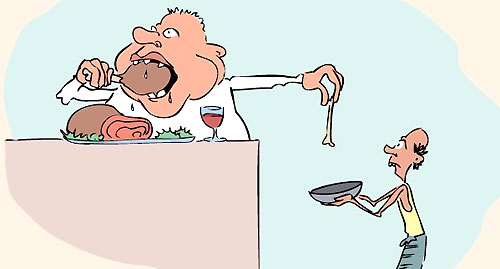 Education Minister Bandula Gunawardene who had a close encounter with the GCE A/L Z-score system or formula and the district and island rankings nearly plunged the entire education sector down a precipice last year. As the subject minister directly or indirectly responsible for the crisis he ignored or rejected the many calls for his resignation as is the usual practice among ruling party politicians of whatever government in office.
As a teacher of economics he has the penchant for coming out with formulas for resolving problems whether to do with education, economics or politics. The latest formula he has come out with is that a family of three could quite comfortably live on a monthly income of Rs.7,500. He has said his formula was based on the amount, which a school hostel spends to feed those boarded there. His argument is that a school hostel spends only Rs.2,500 to feed a student for a month and if this is so, why canít a family of three live comfortably on a monthly income of Rs.7,500.
When one considers the amount of money needed to pay for clothing including school uniforms Ė just to wash and iron them, the Rs.2,046 to purchase a 12.5 kg cylinder of gas required by every household to keep the home fires burning, the cost of electricity, kerosene and water, bus fares to school or work places, the cost of healthcare, house rent and tuition fees, the amount proposed by the minister would go out of the kitchen window if not the door by the first two weeks at the most.
Readers who were amused, shocked or suffered from indigestion over what the minister said asked whether he was living in cuckoo land or whether he was misreported. Could he have meant Indian rupees or dollars some asked or was he talking of an era now long gone?
People would take seriously what Mr. Gunawardene, a former Deputy Minister of Finance, says if he has the guts to walk the talk and tell us how he balances his family budget. He should waste no time on public debates but publicly in an act of patriotism propose to the cash-strapped government that the salaries of all parliamentarians, especially those in the government, be reduced taking into account the amount he says is quite sufficient for a three-member family to survive as the benchmark and the money saved to be used in providing much needed relief to the suffering people severely burdened by the soaring cost of living.
The government should consider Education Minister Bandula Gunawardene a national hero and award him one of those doctorates for teaching Sri Lankans that they could easily make ends meet if they live in hostel-like surroundings. If the ministerís bellyful of ballyhoo is to be believed then there will be no more the need to clamour for increased wages and no more useless talk of a soaring cost of living. Thus Sri Lanka can be easily turned into a Shangri-la if not a wonder of Asia notwithstanding what happened or did not happen in Geneva and despite the various interpretations on why some countries voted for, some countries voted against and the others by abstaining helped the Us-led resolution on Sri Lanka to be adopted.
Source: Daily Mirror - Sri Lanka