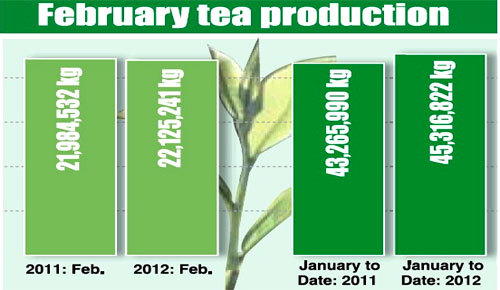 Despite assurances by the United States(us) that Sri Lanka's tea exports to Iran do not fall under its sanction category, Sri Lankan authorities are planning to dispatch a delegation to Iran next week to discuss measures to avert a possible crisis, particularly in terms of arranging payments, informed sources said yesterday.
A spokesman for the US Embassy told the Daily Mirror on Wednesday that the law exempted exports of food, medicine and medical devices to Iran, and it is significant for Sri Lanka because tea exports are included in the food exemption. However, Sri Lanka Tea Board sources said a team would be sent to Iran next week to discuss the matter further. Iran is the second largest market for 'Ceylon tea', and it purchases 32 million kilos annually. Besides, Iran purchases 13 million kilos of Ceylon tea from intermediaries such as Iraq and Syria. Russia continues to remain the largest tea market for Sri Lanka.
Sri Lanka Tea Exporters' Association's Chairman Niraj de Mel said those in the industry were well aware of the US stand in this regard. Mr. Mel, however, added that there could be problems in transacting with Iranian authorities because most Iranian banks had been blacklisted under the US sanctions.
"Already, the industry has been affected by the crisis situation in Syria which has dwindled reserves of US dollars. It is difficult to get payments released out of that country.
As far as I know, most Iranian banks have been blacklisted. Therefore, Sri Lankan banks find it difficult to deal with them," he said.
Central Bank Governor Ajith Nivard Cabraal said it would be easy for Sri Lanka to look for alternatives to face a possible crisis situation since the US had clarified its sanctions against Iran in clear cut terms.
"Now it is easy for us to look for new approaches," he said.
Colombo's Iranian Ambassador Mohammed Nabi Hassanipour also confirmed that Sri Lanka's tea industry would not be affected by the sanctions imposed against his country.
He said the US sanctions would not apply to private banks in Iran and therefore there would not be a problem in arranging payments either.
"The demand for Sri Lanka's tea in Iran remains unchanged," he said.
Source: Daily Mirror - Sri Lanka