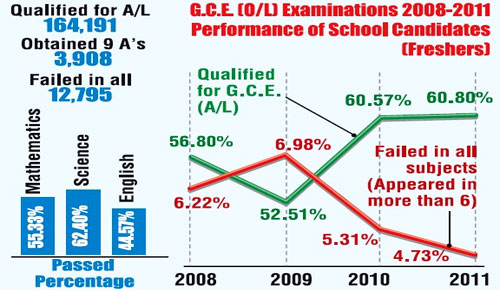 More than five per cent of the candidates who sat the GCE O/L examination in December last year have failed in mathematics, Education Ministry statistics revealed yesterday. According to these statistics only 55.3 per cent or 148,940 students had passed in mathematics last year while 60.3 per cent or 269,167 of the students had passed this subject in 2010.
Education Minister Bandulla Gunawardene told a media conference that memorizing the periodic tables would be made compulsory for all students. He said Tamil medium students had a better knowledge of periodic tables than the Sinhala medium students and assured he would setup mathematics labs in 1,000 schools under the government's special development programme.
The minister said with a 62.4 per cent passing in Science and 44.5 per cent in English the pass rate had improved last year when compared with the previous year, which had a pass rate of 61.7 per cent in Science and a 42.3 per cent pass rate in English.
Nearly 2,001 students in the Western Province obtained 9-As while 507 students obtained 9-As in the Southern Province, 462 in the Central , 103 in the Northern, 148 in the Eastern and 291 in the North Western Province.
Eighty four students had obtained 9-As in the North Central Province with 86 in the UVA Province and 226 in the Sabaragamuwa Province.
Nearly 2,692 students in the Western Province had failed in all subjects while in the Northern Province 646 had failed in all subjects had the lowest number of such failures.
The minister said the results of 462 students had been withheld and of this number 32 students have been from Neluwa Vidayalaya in the Galle District. Results had been withheld for various reasons and he said inquiries would be held to find out why this happened.
Visaka B. M. V. student Udeshika Hettiarachchi came first in the Island while Anusha Perera of Science Vidyalaya was placed second.
Third place was shared by Bharatha Rankothge of Dharamaraja Vidyalaya Kandy and Samandika Wimalaratne of Pinnawala MMV Rambukana.
Source: Daily Mirror - Sri Lanka