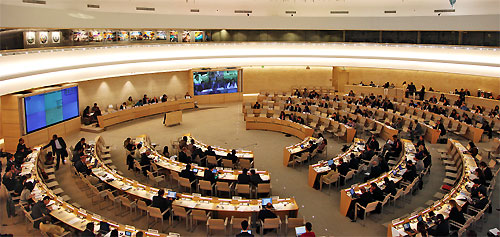 Sri Lanka is more focused on convincing the international community that there is no need to move the resolution against the country at the 19th session of the United Nations Human Rights Council (UNHRC) instead of waiting to defeat it at vote, officials said yesterday.
A Sri Lankan delegation headed by External Affairs Minister G.L. Peiris is expected to leave for Geneva again soon to lobby for the country in the wake of the summation of the Us-sponsored resolution against the country.
Legal consultant to the Cabinet of Ministers Mohan Peiris who returned to the country after lobbying for the country said Sri Lanka would act to defeat the resolution if it were moved during the session. However, Mr. Peiris said more attention would be paid on the need to convince the international community about the futility of moving such a resolution under the present circumstances.
"We have a roadmap for reconciliation. We have taken steps to implement the recommendations by the Lessons Learnt and Reconciliation Commission (LLRC) through a gradual process which is already on. It is futile to bring a resolution against Sri Lanka at this moment. We campaign to convince the international community in this regard," he said.
Referring to the informal side event conducted by the United States last Thursday in Geneva regarding Sri Lanka's issue, Mr. Peiris said Sri Lanka could use the opportunity to counter allegations by the parties interested in the issue.
"It was a programme scheduled for two hours. Yet, it took a little more than one hour to finish the programme. It was a very good opportunity for us. We made a presentation about our roadmap," he said.
The draft resolution has already been submitted by the US to the UNHRC. In case, the US is not convinced to shelve the resolution, it is likely to be moved on March 21 for vote before March 23.
Meanwhile, Minister G.L. Peiris flew to Saudi Arabia yesterday morning for bilateral interactions with his counterpart. He is expected to return to the country today.
Source: Daily Mirror - Sri Lanka