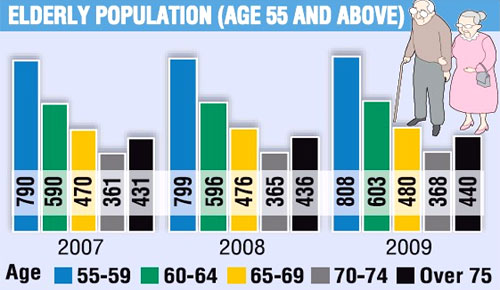 A special identity card will be issued to senior citizens to allow them special privileges at various establishments, the National Secretariat for Elders Director, Mrs. J. Krishnamoorthy said at a Media briefing held yesterday at the Health Education Bureau. She noted the move will involve immense groundwork and infrastructure and the National Secretariat for Elders has appealed to the government, the Health Ministry and other relevant authorities to initiate the system.
"By 2050 the elderly dependent population will rise to 27% from the 10% seen now and we as a country must be ready to take better care of our elders" she said. "The environment and physical changes pose a risk to many of the elderly community" said Mr. Ajith Kithsiri, a senior occupational therapist. Lack of vision, hearing loss, loss of muscle strength and flexibility - they all lead to the elderly community facing issues when carrying out their daily chores. He noted that many from the elderly community face various hardships due to slow reflex action.
"Many elderly people have a tendency to fall and be subject to other accidents but there is little anyone can do to prevent these" he said. The World Health Day will be carrying the message "Good health adds life to years" this year which the World Health Organisation (WHO) hopes will raise awareness of how a healthier lifestyle can lead to a better life when older.
"Taking care of our senior citizens and working towards a healthier population go hand in hand" said the Deputy Director General of Health Services (PHS 2) Dr. R.R.M.L.R. Siyambalagoda. The WHO Country Representative, Dr F.R. Mehta said he believed Sri Lanka was on par with most developed nations when it came to healthcare.
Source: Daily Mirror - Sri Lanka