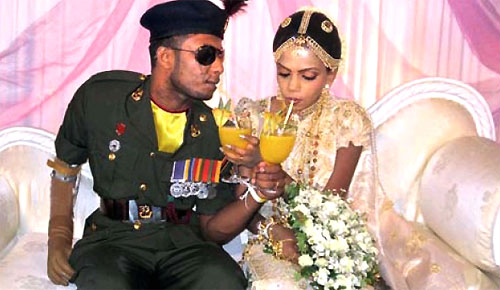 In one of the most significant acts that symbolizes the power of true love, a 23-year-old army soldier who had lost both his eyesight and right arm in the war, tied the knot with his 18-year-old fiancée at the 'Abhimansala Ranaviru Resort' in Anuradhapura yesterday.
Lance Corporal Charith Kularuwan Kulatillaka of Wellamorana, Mihintale was caught in the explosion of an anti-personal mine during the last phase of the war in Kilaly while his bride was Suvini Sewwandi from Ragama. The two had met each other while travelling in a bus to Ragama when Charith was receiving treatment at the Ragama Ranaviru Centre. Sewwandi had realized that he was a soldier maimed by the war and asked for his contact number. Their accidental acquaintance had bloomed into a love affair later on.
Army Commander Jagath Jayasuriya and his wife Mallika Jayasuriya, Ministers S. M. Chandrasena, Felix Perera and Deputy Minister W. B. Ekanayake participated in the wedding ceremony.
Charith had joined the army as a soldier of the Wijayaba Infantry Regiment on May 5, 2007. After training, he joined the final battle against terrorism. He was caught in the explosion of an anti-personal mine on November 18, 2008 during an operation to break forward defence lines of the LTTE in Kilali. After being injured seriously, he was airlifted to the Sri Jayawardenapura Hospital. Though he survived after medical treatment, he could not regain his eyesight while his right arm was also amputated.
He had been transferred to the Ragama Ranaviru Sevana after initial treatment at the Sri Jayawardenapura Hospital. He had met Sewwandi in a bus on his way to Ragama once during this period. During their days as lovers Sewwandi had promised to love, cherish and look after Charith right throughout her life. And in return, besides all the handicaps Charith possesses a pure heart that can pour out true love and affection to Sewwandi right through his life. Sewwandi is the elder daughter of Sisira Senaratne and Aiwa Shiromi Zoysa of Gane Road, Ragama. Their wedding took place amidst the blessings of their parents.
The ceremony was organised by Col. Kanishka Bandara.
Meanwhile, a philanthropist from the area who attended the wedding offered to build a house for the new couple.
Source: Daily Mirror - Sri Lanka