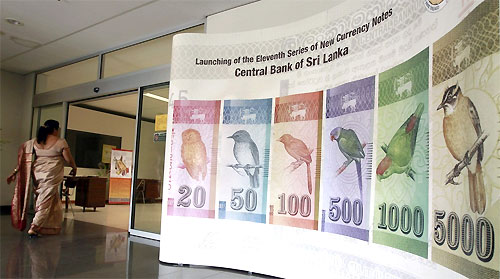 The government agreed in Parliament yesterday to probe the allegation that the Central Bank had imported currency notes instead of awarding contracts to Thomas De La Rue Lanka Ltd. established for the purpose.
UNP MP Ravi Karunanayake raised this issue in Parliament during the oral question time, and said the Central Bank had violated the Cabinet procedure by importing currency notes printed elsewhere. He said that he had enough and more evidence to prove this allegation.
Senior Finance Minister Dr. Sarath Amunugama said the contracts for the printing of currency notes should be awarded solely to Thomas De La Rue Lanka Ltd Company in Biyagama in conformity with the Cabinet decision taken in 2006.
"Forty percent of shares of this company are with the government. According to a Cabinet decision, the Central Bank should take steps to print currency notes through this company reputed worldwide for its expertise. The company had a branch in Singapore. Now, they have centralized their activities here more and more," he said. With regard to the allegation made by Mr. Karunanayake, Dr.amunugama said that it would be probed with immediate effect and Parliament would be notified of the results later.
In 2010, the Central Bank had withdrawn 136.6 million soiled currency notes from circulation and in 2011 137 million notes.
The Senior Minster said the currency notes are printed to replace soiled notes withdrawn from circulation from time to time. Also, he added that the Central Bank could decide on printing currency notes depending on achievements in economy.
Mr. Karunanayake asked the Minister to submit all the details related to the value of currency notes printed in this manner on different occasions during the last few years.
Source: Daily Mirror - Sri Lanka