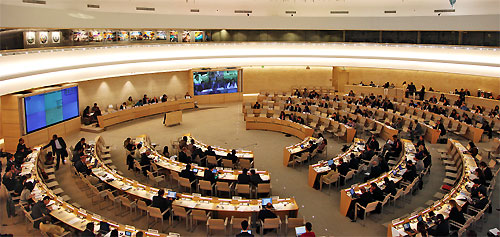 With the vote on the United States-led resolution to be taken up anytime now, India has instructed its permanent representative in Geneva to engage with Sri Lanka's External Affairs Minister G.L. Peiris further on the issue, a Sri Lankan diplomat in Geneva said yesterday.
The minister is reported to have had a 20-minute telephone conversation with his Indian counterpart S.M. Krishna yesterday morning to discuss the latest development after Indian Prime Minister Manmohan Singh said his country was 'inclined' to vote for the US resolution.
The Lankan diplomat said Mr. Krishna had told the minister that India was compelled to make such an announcement due to domestic political compulsions. In widespread agitation during the past few weeks, political parties in Tamil Nadu urged the Central Government to support this Us-led resolution.
India's latest stand has created fresh diplomatic concerns for Sri Lanka, which is lobbying other member countries seeking their support to defeat this resolution.
Sri Lanka has called this resolution unwarranted. The Sri Lankan government is of the view that such a resolution at the United Nations Human Rights Council (UNHRC) would disturb and disrupt the reconciliation process in Sri Lanka.
Sri Lankan diplomatic delegation in Geneva believes there will be amendments to the proposed resolution already tabled at the UNHRC.
Another diplomat said there was the likelihood of this resolution being moved and taken up for voting today itself.
Source: Daily Mirror - Sri Lanka