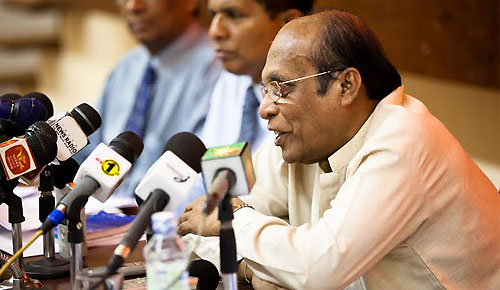 Weak, unprofessional internal auditing and the lack of qualified auditors have led to inefficiency and financial indiscipline in the state sector. This has to be addressed sooner than later if Sri Lanka is to achieve its development goals, Senior Minister D.E.W. Gunasekara said.
The situation was so grave that there was no conducive environment for independent auditing and financial management at many state institutions, therefore many of them had become a liability to the government, Minister Gunasekara said.
Minister Gunasekara made these remarks at the opening ceremony of the new building of the Auditor General's Department at Battaramulla which was declared open by President Mahinda Rajapaksa yesterday morning.
Minister Gunasekara who is also the Chairman of the Parliamentary Committee On Public Enterprises (COPE) by stressing the need that the AG's department maintains extreme independence added that the British rulers gave first and foremost place to the AG's department in their administration as they thought financial discipline was atmost importance for a sound administration.
The AG's department was one of the first government departments the colonial rulers established in Sri Lanka nearly 200 years ago. They were of the view that the AG's department must be highly independent, efficient and disciplined if they were to have a firm footing in Ceylon which was proved correct, he said.
In Sri Lanka's modern history, local rulers also decided that the AG's department must be an independent entity and made sure that the AG's department was responsible only to the legislature.
Minister Gunasekara stressed that it was extremely important to strengthen and make independent the Internal Audit Departments of all ministries, departments and semi-government institutions to make them efficient and viable establishments that contributed to the development of the country.
However, the current situation was far from satisfactory and a large majority of state institutions were beset with financial and administrative indiscipline that was also the cause for all maladies of the state sector.
Mr. Gunasekara said the COPE for the first time in its history inquired 250 audit reports of state institutions last year and made recommendations to maintain financial management discipline. He thanked President Rajapaksa for presenting the COPE report to the cabinet and instructing ministers to implement its recommendations.
Prime Minister D.M. Jayaratne and Auditor General H.A. Samaraweera also spoke.
President's Secretary Lalith Weeratunga, Defence Secretary Gotabaya Rajapaksa and Kaduwela Mayor G.H. Buddhadasa were also present.
Source: Daily Mirror - Sri Lanka