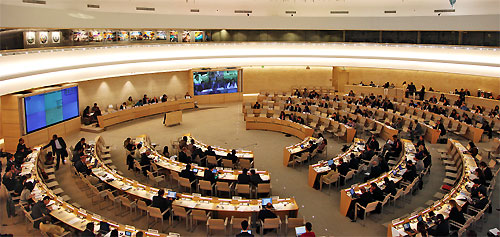 Sri Lanka's longstanding development partner Japan has stressed, at the 19th United Nations Human Rights Council (UNHRC) sessions, that the international community should engage with Sri Lanka on a constructive basis without exerting pressure on it.
At the UNHRC sessions on Tuesday, Japan reassured it would continue to support Sri Lanka in reconciliation and reconstruction, and stressed the need for the Sri Lankan government to implement the 'many good' recommendations in the Lessons Learnt and Reconciliation Commission (LLRC) report. Japan, which is participating in the sessions as an observer, highlighted the need for Sri Lanka to continue to have an open and regular dialogue with the international community on its human rights situation.
However, Japan which enjoyed voting rights in the past abstained from voting when the resolution was brought against Sri Lanka in 2009.
Meanwhile, the government, in a frantic effort to solicit the support of the international community to defeat the United States (Us)-sponsored resolution, has dispatched some ministers to several capitals in the MiddleEast, Latin America and Africa, informed sources said yesterday.
Justice Minister Rauff Hakeem has been lobbying in Dubai and Kuwait during the last couple days before he left for Geneva from there to do bilateral work ahead of the resolution being moved against the country.
Petroleum Minister Susil Premajayantha headed to Djibouti and Environment Minister Anura Priyadarshana Yapa to Ecuador to engage in bilateral talks with the leaders of the countries in Latin America and Africa.
Source: Daily Mirror - Sri Lanka