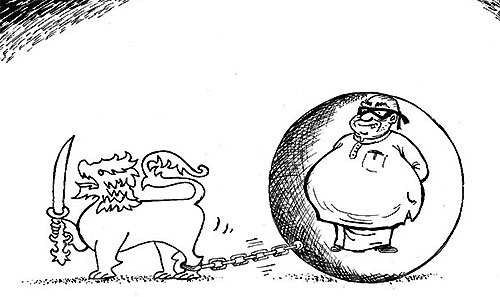 Speaker Chamal Rajapaksa will take tough action against un-parliamentary behaviour by MPS and those found guilty of doing so may lose parliamentary privileges, perks, foreign trips, state security and vehicles, the Daily Mirror learns.
Parliamentary Committee on Propriety, Discipline and Security (CPDS) Chairman and Senior Minister D.E.W. Gunasekara said the CPDS would recommend punitive action like the withdrawal of privileges and perks provided by the government, foreign trips for official engagements and state security if found guilty after allegations levelled against erring MPS were proved.
The senior minister said Parliament had no authority to remove an erring MP from membership but parliament and the government could withdraw privileges and perks afforded to such a member. He said the committee hopes to collect information from a cross section of society.
"Yes, it is true that discipline among lawmakers in and out of Parliament has deteriorated in recent times and they are gradually losing the respect of the people. Even President Mahinda Rajapaksa is concerned about this negative development and the government and the Speaker are of the view that this must be addressed before it gets worse," the senior minister said adding that former Parliamentary Secretary Generals Sam Wijesinghe, Nihal Seneviratne, Bertram Tittawella and Priyani Wijesekara, former,ministers and MPS and academics, the media and the people would be invited to talk to the CPDS.
CPDS comprises Senior Minister P. Dayaratne, Ministers Anura Priyadharshana Yapa, Rauf Hakeem, TNA leader R. Sampanthan and senior UNPER Karu Jayasuriya.
Source: Daily Mirror - Sri Lanka