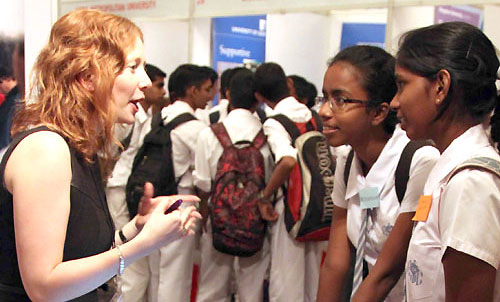 Higher Education Minister S. B. Dissanayake yesterday encouraged UK higher education institutions to set-up campuses in Sri Lanka to meet the growing demand for UK qualifications.
Addressing representatives of UK higher education institutions at the 19th annual Education UK Exhibition which was opened yesterday, Minister Dissanayake said, "In line with our vision of becoming a regional education hub, we hope that you will consider setThe Education UK Exhibition organised by the British Council, is the largest British Education exhibition of its kind in Sri Lanka. It offers students and parents an opportunity to consider the wide range of study options in the UK and in Sri Lanka, and gives students a chance to meet representatives of UK institutions face-to-face to discuss their study options.
"Education ties between the UK and Sri Lanka have always been strong. The presence of 56 UK Universities in Sri Lanka reaffirms the importance and value both countries attach to education. Last year we had around 3,000-4,000 visitors and this year too we expect to attract an equally large crowd," said Tony Reilly, British Council Country Director. Students can also attend the variety of subject seminars at the exhibition to obtain details about the areas they are interested in. Seminars conducted this year will cover general topics such as student visa, scholarships in the UK, living in the UK, and will also cover subject areas such as Law, Medicine, IT and Computing, Business Studies and Engineering.
In addition to the UK exhibitors, students will be able to meet representatives from the UK Border Agency (UKBA), IELTS and obtain details of UK University courses delivered in Sri Lanka through Sri Lankan educational partner institutions.
Meanwhile, Higher Education Minister S. B. Dissanayake and a high-level delegation from Sri Lanka including three Vice-chancellors will leave for London on Sunday to participate at the sixth consecutive British Council organised 'Going Global' Conference. Minister Dissanayake will present the government's vision to establish Sri Lanka as a regional educational hub with delegates from over 50 countries. He is expected to invite UK Universities to consider setting up more collaborative partnerships and overseas campuses in Sri Lanka.
The Minister is also due to hold bilateral talks in London with UK Minister for Higher Education, David Willets MP.
Source: Daily Mirror - Sri Lanka