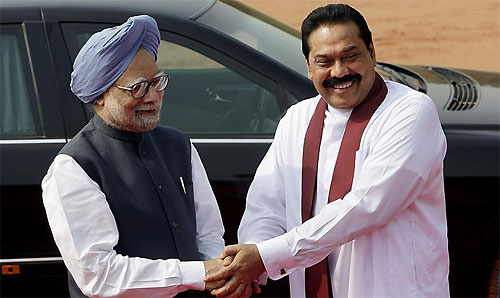 In the best of times party politics locally and internationally has been largely a matter of having permanent interests and not permanent friends. At an international level this reality is a vital factor and that is why high priority must be given to professional diplomacy so that Sri Lanka can survive in a world of self-seeking, geo-political strategies and weapons of mass deception. Unfortunately in recent years, the External Affairs Ministry has been overloaded with noncareer political diplomutts who cannot understand or interpret international law, regional geopolitical strategies but are more interested in the position, perks and privileges of DPL status.
For Sri Lanka, experience has shown that a good relationship with our big brother and sometimes bully brother India is important because of the mutual benefits. Prime Minister Sirimavo Bandaranaike during her two terms from 1960 to 1965 and then 1970 to 1977 maintained a strong and stable relationship with India. She may have lacked experience or maturity in international politics but she had excellent professional advisors who guided her so well that she presided over the Non Aligned Movement. Unfortunately the UNP led by J.R. Jayewardene messed up the relationship with the Indira Gandhi administration. UNP leaders referred to Ms. Gandhi and her son Sanjay as the cow and calf.
Thus when the Jayewardene-administration swept to office in 1977 there was a virtual political war with India. This was the period when the ethnic conflict in Sri Lanka was at a flash point. Provoked by the attitude of the Jayewardene Government, India is known to have armed and trained Tamil rebel groups including the LTTE. This led to the 1983 racial holocaust, the bloody ethnic war and the intervention by the Indian peace keeping forces in 1987.
During the next 25 years Indo-sri Lanka relations took twists and strategic turns with the LTTE factor also getting more complicated after a Tiger woman suicide bomber killed former Indian Premier, Rajiv Gandhi. During the final years of the war with the LTTE, the Indian Government is known to have given political and military support to the Rajapaksa administration, which crushed the LTTE terrorists in May 2009.
But in the past three years the agendas and equations have changed again. India has been seeking the right for its fishermen to move into Sri Lanka's territorial waters while the same right is given to Sri Lankan fishermen.
From fishing, the issue has now turned to oil. According to Indian diplomatic sources, the New Delhi administration is seeking all four blocks for oil exploration in the Palk Straits. An Indian company at present is exploring for oil in one of these blocks while companies from Russia, Vietnam and Malaysia are reported to have expressed interest in exploring for oil in the other blocks.
Significantly China also has now entered the scene and this move is reported to have caused grave concern in New Delhi. The Indian government is now reported to be trying to persuade Sri Lanka to give it all four oil exploration blocks. With Sri Lanka facing international pressure at the United Nations Human Rights Council (UNHRC) sessions in Geneva, India's support is vital and that may be the reason the oil issue has come up now. Sri Lanka needs to carefully handle this issue because after various forms of diplomacy, most world events are now worked out on the basis of oil diplomacy.
Source: Daily Mirror - Sri Lanka