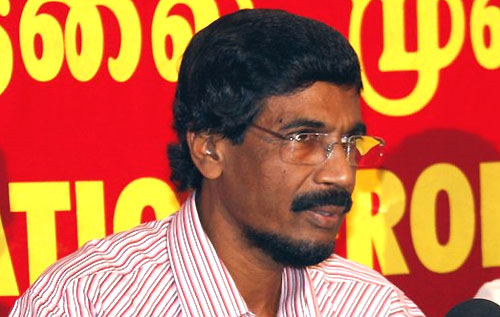 Janatha Vimukthi Peramuna (JVP) General Secretary Tilvin Silva scoffing at speculations in the political circles that the party was to come to an agreement with the UNP to topple the UPFA Government said, the speculations were totally unfounded and incorrect.
"We have no intention whatsoever to work with the UNP as we have our own strategy and a policy on how to bring to an end the dictatorial and corrupt government. The UNP is known for spreading these kinds of rumours from time to time when they have crises. The UNP must try to put their house in order before spreading false rumours like this," Mr. Silva told the Daily Mirror.
Mr. Silva said the JVP had no plans to come to an agreement not only with the UNP but with any other political party or to form a combined opposition right now. He said the JVP was fully committed to reorganising and strengthening the party. He said the JVP does not need the help of outsiders to carry forward the struggle against the corrupt UPFA government and cannot think of a political journey that would go hand in hand with the UNP.
The policies and political strategies of the UNP and the JVP were wide apart and an alliance between the two was unthinkable, he stated.
Source: Daily Mirror - Sri Lanka