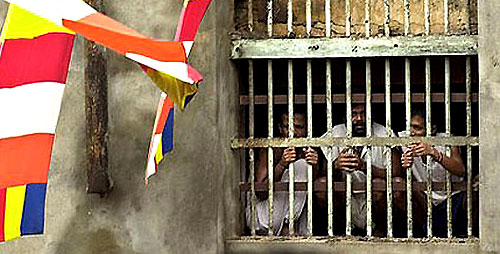 An increasing trend towards homosexuality had been noticed among prisoners giving rise to fears of the spread of AIDS and other sexually transmitted diseases, a health official said yesterday. National AIDS and Sexually Transmitted Diseases Prevention Unit Director Dr. Nimal Edirisinghe spoke of these concerns at a Kalutara District Awareness Programme on sexual health. It was attended by doctors, guest house owners and members of voluntary organisations.
He said the timely detection of AIDS could prevent its spreading.
"The AIDS virus can be passed from males to males and females to females. Statistics have revealed that some 3,000 patients in Sri Lanka have been found to be AIDS positive. Last year, 1,463 patients have been confirmed as having AIDS," Dr. Edirisinghe said. "So far 253 had died of this sickness among them were 50 children. Those between the ages of 15 and 49 had been the victims, out of which 58 per cent are men and 42 per cent women. Western province had shown an increase. In the event private Blood Banks are allowed to function this number may be doubled."
He said some private hospitals do not follow the laid down regulations, while the National Blood Bank subjects the donors to various tests and cross examinations.
Source: Daily Mirror - Sri Lanka