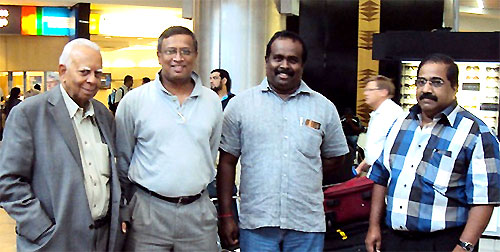 The Sri Lankan government has requested the PRO-LTTE Tamil Diaspora to prevail upon the Tamil National Alliance (TNA) to work for a political solution casting aside its differences. During an interactive session with Tamil Diaspora activists, the NGO representatives and heads of missions of various countries here in Geneva, parliamentarian Sajin Vaas Gunawardene said there appeared to be differences within the TNA about evolving a political solution.
"As a member of the government's delegation involved in a political dialogue with the TNA, I know that there are rifts within the party. One section is not genuinely interested in working out a political solution. They fear that such a solution will compromise their electoral interests. We ask you to prevail upon the TNA if possible to cast aside such differences," he said while responding to a question posed by a representative of the Global Tamil Forum, which is known to be an LTTE front.
GTF representative Suren Surendran asked the panel why the government had terminated talks with the TNA.
House Leader and Minister Nimal Siripala de Silva said the government was ready to resume talks once the TNA nominated its members to the proposed Parliamentary Select Committee (PSC). He said he held talks with the TNA leadership prior to his departure from Sri Lanka. "We even changed the terms of references of the select committee on the request by the TNA. It is a time consuming effort. We will submit a report within a period of six months," he said.
The Global Tamil Forum said they welcomed the report by the Lessons Learnt Reconciliation Commission (LLRC).
"We welcome the report. We are not here to criticize everything you do. Yet, why have you not implemented recommendations made in the interim report," Mr. Surendran asked.
The GTF raised concerns over the presence of Minister Douglas Devananda in the panel. They accused the Minister of operating a paramilitary group. Among those who made such allegations were TULF leader V. Anandasangary's son Garry who works for the Canadian Tamil Congress.
Presidential Human Rights Envoy Minister Mahinda Samarasinghe who moderated the panel asked them to refrain from slandering anyone in the panel with various accusations.
"This is meant to be an interactive session. If I put your bona fides, there will not be any dialogue here," he told Mr. Anandasangari.
Source: Daily Mirror - Sri Lanka