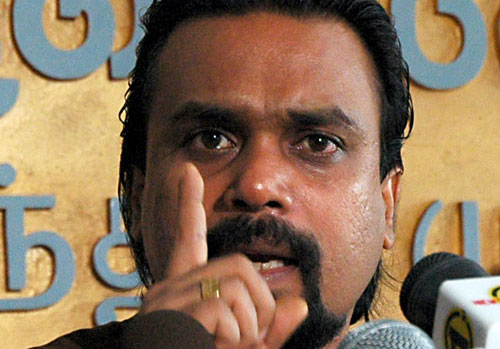 If war crime charges were brought against former Army Commander Sarath Fonseka, the government would undoubtedly protect him without any hesitation but pardoning him or setting him free is entirely a different issue, Construction, Engineering, Housing and Common Amenities Minister Wimal Weerawansa said. Responding to a query on the UNHRC sessions in Geneva next week at the weekly cabinet news briefing yesterday Minister Weerawansa said it is the responsibility of all patriotic Sri Lankans to extend their support to the government notwith standing their political, religious, ethnic or social affiliations at this hour.
"Yes, the country has confronted a grave and unprecedented challenge as the West and anti Sri Lanka elements are in a campaign to destroy Sri Lanka as they are extremely angry for the annihilation of the LTTE terrorism in this country. Therefore, they are in a mission to destabilize the Mahinda Rajapaksa administration and war heroes who brought peace to the country after 30 years of blood and destruction," he stressed..
Appealing to the opposition and trade unions that launch protest campaigns, Minister Weerawansa said: "You can defeat Mahinda Rajapaksa in an election, but do not attempt to unsettle the country through your anti national hate campaigns that would destroy the country and bring back the terrorism that bled the country for 30 years,".
Minister Weerawansa questioning the rationale of the anti Sri Lanka resolution by the west added that they have treated Rajapaksa administration like one that came to power with a coup, a military rule or a country that possess nuclear threats to others which is not the case.
The protests against fuel price hike and related increase of electricity and bus fare did not intend to air their genuine difficulties but aimed at disrupting the country and create an ideal situation to show that HR and FR violations and Labour Rights violations are common in Sri Lanka.
Source: Daily Mirror - Sri Lanka