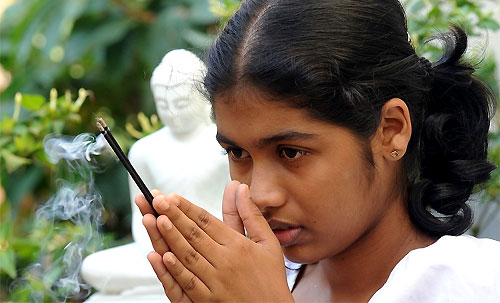 Rest, relaxation and leisure are necessary or important for all people. But we need to remember, as Longfellow said that the heights reached by great people, reached and kept, were not attained by sudden flight, but they, while their colleagues slept, were toiling upwards in the night.
The same poet-philosopher has also advised us that when we have work to do we must do it with a will because those who reach the top must first climb the hill.
Ruling party political leaders have in recent years been boasting about making Sri Lanka the Wonder of Asia. Perhaps one of the wonders we cannot boast about is that we have the highest number of holidays in the world -- as many as 25 public holidays. If Saturdays, Sundays, annual, medical and causal leave are considered, it makes a total of 165 holidays that means we are on holiday for almost five and a half months a year. We do not need an economist to warn us that such a situation is not good for the economy or public administration.
Veteran medical specialist Dr. L.A.W. Sirisena, a gynecologist with a vision from the cradle to the grave has outlined a home grown plan to turn religious holidays especially into really holy days with hard work also added so that love and labour will not be lost. Writing in the Daily Mirror on Wednesday and Thursday Dr. Sirisena said leaders of all religions should come together to help and guide the government to achieve this objective, which would bring about religious unity in diversity while accelerating economic development and streamlining public administration.
During the past few decades several political leaders had tried to cut down on the number of religious holidays but they were not able to do so due to the fear or possibility of disturbing sensitive religious feelings. According to Dr. Sirisena, the plan for holy working days could be worked out in a practical way through dialogue among all religious leaders. He says the Full Moon Poya days except for Vesak and Poson, Hadji, the Holy Prophet Mohammedís Birthday, Mahasivarathri, Deepavali and Good Friday could be working days, with arrangements made for the first two hours i.e. 8.00 a.m. to 10.00 a.m. at the work place to be spent in an activity devoted to the significance of that particular dayís event.
As an example on Poya days all could gather at their work place and listen to a sermon; on Hadji and Prophet Mohammedís Birthday, a programme on some aspects of Islam and the life of the Holy Prophet; on Deepavali and Mahasivarathri day a Hindu cultural programme and on Good Friday, a prayer Service, talk and discussion on the life of Jesus Christ.
This will ensure everyone will at least spend some time meaningfully in the observance of the particular event of the day. It is also likely to promote understanding of the different cultures and integration and harmony among the different religious and ethnic groups as all separate groups will together organize and participate in each otherís functions and start work after partaking in tea and fellowship.we hope the government in consultation with all religious leaders, the heads of state and private institutions will work out such a programme effectively to foster religious and racial harmony so that the rebuilding of the nation could take place on a foundation of rock.
Source: Daily Mirror - Sri Lanka