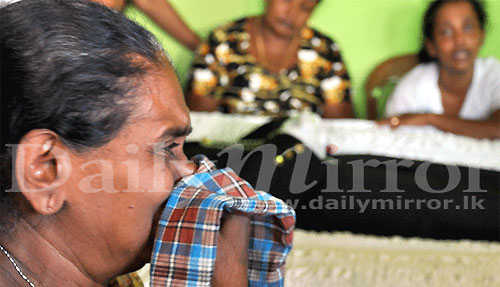 A group of uniformed men had come to the home of 28year-old fisherman Anthony Fernando who had been shot dead in Chilaw and had allegedly offered cash to the family members requesting them to keep quiet about what had happened, a family member said yesterday.
Mr. Fernando's brotherin-law Wijay Waranakulasuriya told Daily Mirror the group had come to the house on Wednesday evening.
But the family had no hesitation in refusing to accept the cash. "We refused the cash as we are determined to seek justice," he said and urged the government to arrest those who shot his brother-in-law. Mr. Warnakulasuriya said funeral arrangements would be made after Mr. Fernando's widow returned to the country from Doha in Qatar where she works. Their two small children were in tears and inconsolable at the sudden loss of their father.
Mr. Warnakulasuriya said they would not allow a repeat of the Katunayake Free Trade Zone episode and vowed that the funeral arrangements would be made by the family.
He said they would not allow anyone to hijack the body of his brother-in-law.
"We will not allow anyone to take the body of my brother-in-law the way they took away the body of the young man who was killed at the Katunayake FTZ," Mr. Warnakulasuriya said.
He said his brother-in-law had done nothing wrong to face such a violent death.
"We are not LTTE cadres to be killed on the roadside in broad daylight," he said pointing out that his brother-in-law was shot in the head. Speaking on behalf of the fishermen he said some kind of redress should be provided to them as they were helpless because of the unprecedented increase in fuel prices.nihal Ranjan Fernando who said he was by the side of Anthony when he was shot added that smoke bombs and other unidentified pieces of ammunition were fired at the protesters.
Police in the area denied all allegations stating that the fishermen were coming up with various stories from time to time. "If you ask two people they will tell different stories about the incident," a policeman said. The police said that the investigation would take time. "Carrying out investigations in cases such as these is similar to casting a net in the sea to catch the fish," he said.
Source: Daily Mirror - Sri Lanka