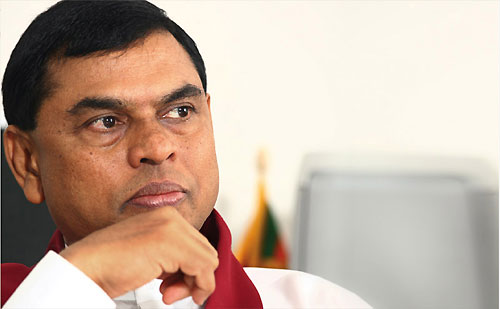 Economic Affairs Minister Basil Rajapaksa had reportedly agreed to make some changes to the Town and Country Planning Ordinance Amendment Bill after members of the ruling party of the Eastern Provincial Council United People Freedom Alliance (UPFA) opposed, confirmed source said yesterday.
The source told the Tamil Mirror online that the representatives from Eastern provincial Council who met Minister Basil Rajapaksa on Saturday explained to him how some matters of the Bill were disadvantageous to the minority community.
Minister Basil Rajapaksa had assured to them that 6.2 and 21.2 parts of the bill concerning Buddha Sasana & Religious Affairs Ministry on acquired lands for religious purposes would be changed.
A person who participated in the meeting with Economic Affairs Minister Basil Rajakpaksa told Tamil Mirror online that if the change was to be made in the bill alone, government members of the council would support during the voting of the bill which would be tabled today.
The meeting was held at the Economic Affairs Ministry between Minister Basil Rajapaksa and representatives from Eastern Provincial Council including Chief Minister Sivanesathurai Chandrakanthan alias Pillayan, other Provincial Ministers, Council Chairman and Deputy Chairman.
Tamil Makkal Viduthalai Pulikal (TMVP) led by Sivanesathurai Chandrakanthan alias Pillayan, National Congress led by Local Government and Provincial Council Minister A.L.M Athulla and All Ceylon Makkal Congress led by Commerce and Industry Minister Rizad Bathiudeen which was a coaliation of parties of ruling UPFA government already had opposed the bill.
Meanwhile government Allies, Sri Lanka Muslim Congress (SLMC) General Secretary M.t.hassan Ali said that SLMC would oppose the bill today.
"Our party had still not received any word from government about the changes in the bill", he said.
But SLMC Western Provincial Council Members had support for the bill due to failure of communication, he added.
Only Western Provincial Council had approved the Town and Country Planning Ordinance Amendment Bill until today.
Source: Daily Mirror - Sri Lanka