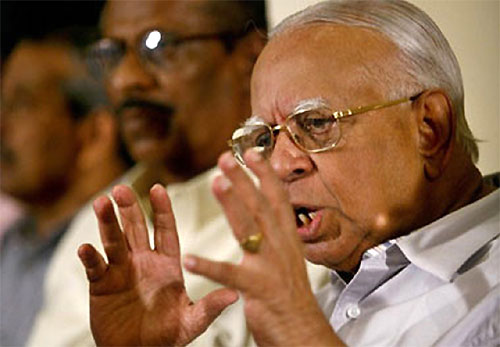 Ahead of the sessions of the UN Human Rights Council, the Tamil National Alliance (TNA) yesterday discussed what it termed 'the whole gamut of issues' with Robert O. Blake, the US Assistant Secretary of State for South and Central Asia and Maria Otero, US Undersecretary for Civilian Protection, Human Rights and Democracy, who are here on a visit.
TNA leader R. Sampanthan told Daily Mirror after the talks that his party discussed a wide range of issues confronting the Tamil people. However, Mr. Sampanthan declined to elaborate on the issues taken up with the US officials."we discussed the whole gamut of issues. It was a cordial and constructive discussion. We exchanged ideas," he said.
Asked whether issues relating to the Lessons Learnt and Reconciliation Commission (LLRC) were taken up, he replied, "We discussed everything." The two top US diplomats will meet President Mahinda Rajapaksa, External Affairs Minister G. L. Peiris and other government officials during their visit which ends on February 14, an External Affairs Ministry spokesman said earlier. Mr. Blake arrived in Sri Lanka on Saturday night and Ms. Maria Otero arrived last morning, officials said.
Their visit comes amidst speculation that the US is to move a resolution against Sri Lanka at the next session of the UNHRC which is scheduled for later this month in Geneva.
Source: Daily Mirror - Sri Lanka