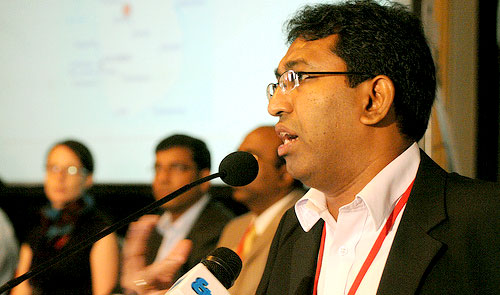 The privatization of the Hingurana and Kantale sugar factories was not in keeping with the government's policy of keeping under-utilized ventures under its care, UNP National List MP Harsha De Silva charged in Parliament yesterday.
Dr. de Silva, who was speaking during an adjournment debate in the House yesterday, said that a 49 percent stake of the Hingurana Sugar Factory had been sold through the Colombo Stock Market recently, adding that the Kantale Sugar Factory too had been sold to a private company, a statistic that Senior Minister Sarath Amunugmama was to deny later when he revealed that the government had decided to cancel the Kantale deal.
Coming up with some more staggering disclosures in the House, De Silva said that the government which accused the previous owners of Sevanagala Sugar Industries of manufacturing spirits had introduced new legislations to obtain a license to import molasses. He said these licenses have been awarded to Sevangala Sugar which was now owned by the government as well as granting a license to Pelawatte Sugar to do the same. "Selling molasses was the main reason cited by the government for the acquisition of Sevanagala Sugar last November. But now the government has granted permission for the importation of molasses in order to produce sprits.
Dr. de Silva also referred to the balance of trade situation stating that the total import expenditure had come up to US $ 18 billion last year while the export earnings had been Rs 9.5 billion. He said that US $ 2 billion had been spent for the importation of essential foods whereas US $ 1.9 billion had been spent for the importation of equipment used for development projects. Elaborating further on the balance of trade situation in the country, he said that Sri Lanka should keep an eye on the recession that had hit Europe and the West as most of its exports go to those regions. Dr. De Silva said Sri Lanka should not depend on China and the Middle East too much for trade as only a fraction of its exports goes into that region. He said only 1.1 percent of Sri Lanka Exports are bought by China while only 3.4 percent are purchased by UAE. This he said was in comparison to USA where 20 percent of its exports went.
Source: Daily Mirror - Sri Lanka