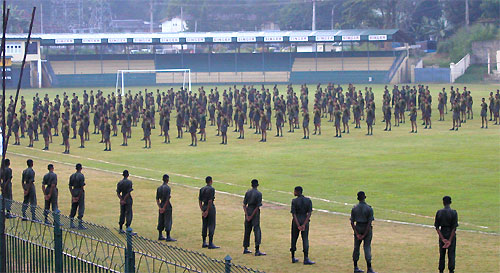 While claiming that permanent military camps are to be established in the Northern Province, Deputy Minister of Resettlement Vinayagamurthi Muralitharan allias Karuna yesterday said the government would take over civilians' land to set up military camps, which are to be built on for security reasons.
"These military camps will be established not only in the Northern Province, but also in all the regions including the Eastern and Southern Provinces as well", Minister Muralitharan told media.
Deputy Minister Muralitharan who was the LTTE'S Eastern Province commander said that though the government had acquired lands through gazette notifications, the exact locations are yet to be decided on. The government would take the decision as to when and where to establish the camps, he said.
He said that people who lost their lands in this process are to be compensated. They will get 40 perches of land which can be used to build houses and do farming. The government would provide help to build houses and start self-employment projects.
Deputy Minister also said that 99 per cent of resettlement has been completed and there are only 6,565 people in the Vavuniya Cheddikulam camp and 1,272 people in Sampoor, Trincomalee.meanwhile, 220 families are scheduled to be resettled in Kombavil on 07 February, he said. "We decided to resettle all people before 31 December but the resettlement project was a little delayed due to delay in clearing the landmines and natural disasters like floods" Deputy Minister Muralitharan said.
He said that they hoped to complete resettlement in 6 months. "However we have to provide help continuously through Ministry of Resettlement".
Source: Daily Mirror - Sri Lanka