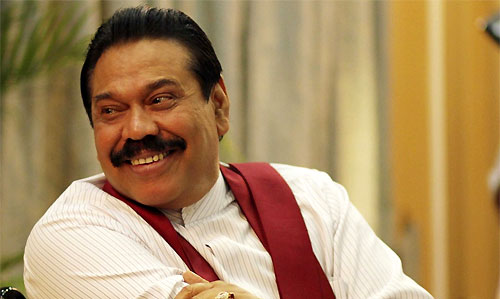 President Mahinda Rajapaksa is likely to send a delegation to the United States ahead of the United Nations Human Rights Commission sessions, to brief US leaders on measures taken to improve the human rights situation here, sources said yesterday.
The US government has announced it would support a motion against Sri Lanka at the next UNHRC sessions in Geneva later this month. Secretary of State Hilary Clinton recently invited her Sri Lankan counterpart to visit the US and counter allegations made against Sri Lanka.
Government sources said this matter was discussed at Wednesday's Cabinet meeting after Senior Minister D.E.W. Gunasekara asked about connected media reports."it is important for us to brief the US about measures we have taken, and plans for the future," the President told the Cabinet meeting.
However, Minister Wimal Weerawansa expressed reservations about such diplomatic interaction with US leaders at this hour. He said the US would not budge from its stand against Sri Lanka despite such a visit. Minister Anura Priyadarshana Yapa is reported to have intervened and said it was not advisable for anyone to look at this issue from an extremist point of view. He said he supported the President's idea to send a delegation to the US.
Minister Mahinda Samarasinghe also supported the stand taken by the President while Minister S.B. Dissanayake emphasised the need to secure India's support on this matter.
"If India is with us, we can ward off international pressure," he said.
Source: Daily Mirror - Sri Lanka