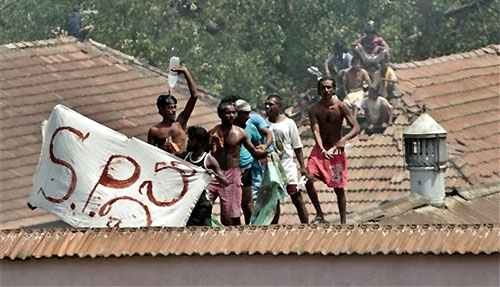 Four prisons officers and ten men on remand over drug related offences have so far been identified by the intelligence units as having been behind Tuesday's riot in the Borella Magazine prison. A highly placed police official said that three prison officers had been seen encouraging the rioters.
Investigations had commenced into the actions of two jailers, an overseer and three jail guards. Ten alleged drug traffickers had also being identified, the official source said. Among those who led this revolt inside the prison the following persons had allegedly been identified; Anthony Raj, Mohamed Shiran, Malik alias Kondaya, Army Thushara, Dematagoda Raja, Cake Saman, Kaduwela Sudda and Kamal Nishantha, said a spokesman from prison headquar ters.
It was also revealed that these men had drugged the detainees with medications used to treat insane persons before inciting them to revolt.
There had also been a plan to break the back wall of the prison and allow over 200 persons who were on remand over drug related offences to escape.
The Commissioner General of Prisons P .W. Kodippily said that once the preliminary investigation report was received stern action would be taken against the officers responsible. The detainees would never have resorted to such acts without the support of the officers, he said.
Source: Daily Mirror - Sri Lanka