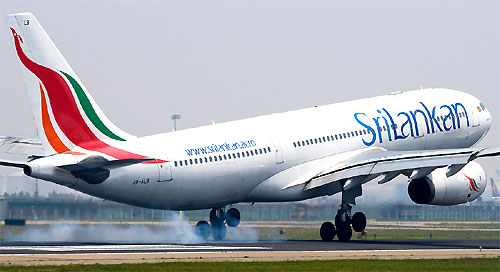 The government is to conduct a corporate research to assess the viability of merging Mihin Lanka with the national carrier Srilankan Airlines, Minister Priyankara Jayaratne told Parliament yesterday.
Mr. Jayaratne made this point in response to a supplementary question raised by UNP MP Ravi Karunanayake during the oral question time in the House. Mr. Karunanayake asked whether there was going to be a merger of the two airlines in the future. Minister Jayaratne said capital had been infused to Mihin Lanka annually since it was established. He said it had been under the Presidential Secretariat and accordingly the airline was star ted with an initial capital of Rs 250 million in 2007 while fur ther Rs 500 million had been pumped in during the same year.
The minister said Ras 500 million had been allotted in 2008 while a fur ther Rs. 3 billion was allocated in 2009. He said Rs 1.6 billion had been invested on the airline in 2010 and a fur ther Rs 1.7 billion in 2011.
The airline had carried some 586,337 passengers since its establishment according to the minister. It had carried 202,499 passengers in 2007/2008 and 28,938 in the following year. In 2010 the airline had carried 130,000 passengers and 224,395 in 2011.It had grossed a revenue of 3.5 billion in 2011 compared to Rs 1.6 billion in 2010.
Mr. Karunanayake charged that the total loss of the airline since its inception had exceeded Rs 10 billion and while a fur ther Rs 10 billion was allocated from the last budget. Mr. Karunanayake questioned as to why the government had failed to turn it into a profit making venture. Mr. Jayaratne who responded said it had begun to earn profits now. Besides the Minister said it was a budget airline which provided a service to the less affluent.
Source: Daily Mirror - Sri Lanka