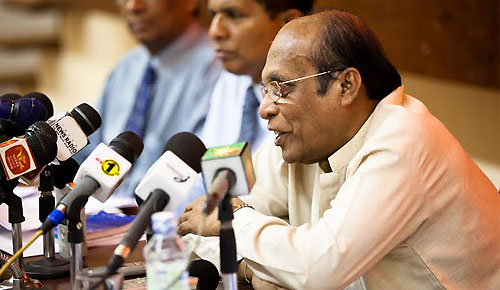 Officers of the Bribery Commission and the CID are to be summoned before the parliamentary Committee on Public Enterprises (COPE) shortly to inquire how investigations into alleged malpractices and financial misappropriation in state institutions are progressing.
COPE Chairman and Senior Minister D.E.W. Gunasekara said a large number of such instances had been identified by the committee and had been referred to the Bribery Commission and the CID for further investigation and legal action where necessary.
But he said so far COPE had not been informed of the progress on the investigations of any these cases.
"We will make inquiries from the Bribery Commission and the CID. In addition to the cases referred by COPE, the Ministries too have lodged complaints with the Commission on several occasions. The CID is also expected to carry out investigations into incidents where official vehicles have gone missing," Mr. Gunasekera said.
The previous COPE repor t compiled by its then chairman Wijeyadasa Rajapakse was sent to the Bribery Commission in 2007 for action.
"But there too, nothing has happened so far," Mr. Gunasekara said.
Meanwhile, JVP front-liner Sunil Handunnetti raised this matter in Parliament on Thursday and asked Mr. Gunasekara to pursue follow-up action against the wrong doers.
"I ask you to summon all those concerned. If possible can you please bring them to the Well of the House," he said. COPE submitted its latest repor t to Parliament in December last year. The report highlighted the financial situation at 229 state institutions.
Source: Daily Mirror - Sri Lanka