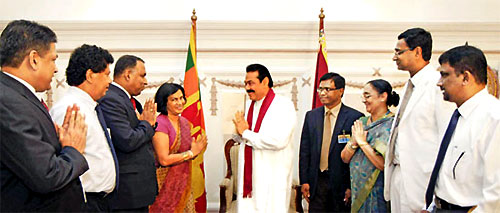 The Ceylon Teachers Union (CTU) yesterday urged the government to release immediately the Dhara Wijetilaka committee report that probed the GCE A/L results fiasco as there was an attempt to convince the country that the results were correct.
CTU General Secretary Joseph Stalin said even Prof. R.O. Thatil, who devised the Z score had pointed out that calculating scores of answer papers of both old and new syllabuses of the GCE A/L exam under one format was totally wrong and could produce distorted results.
ďThe Dhara Wijetilaka committee has been appointed to divert the attention of public anger on the education authorities and the government the other way. We do not know the terms of reference of this committee. The committee has reportedly handed over its report to President Mahinda Rajapaksa after gathering information on the blunder only from a selected few. Therefore, we have no confidence in the report,Ē Mr. Stalin stressed.
It is the responsibility of the government to make the report public if it does not have anything to hide. As far as the public is concerned, the report has not found anyone guilty for the mess up, which is the most serious harm that has occurred in the history of education in the country. It has also not probed about the Z score discrepancies, which is the main cause of the blunder, Mr. Stalin emphasized.
He said the only alternative left with the government under the circumstances is to suspend the GCE A/L results and take steps to release the correct results after a proper inquiry.
Source: Daily Mirror - Sri Lanka