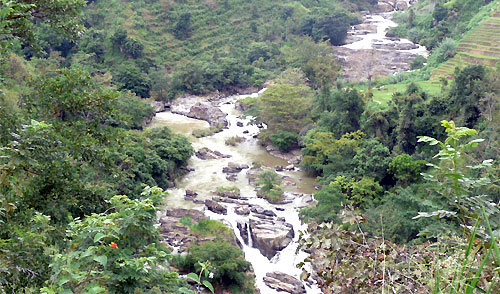 "There were many misconceptions spread on Uma – Oya multi purpose development project by interested parties but the people now have realized the truth and given full cooperation for the project," Irrigation and Water Resources Development Minister Nimal Siripala De Silva said.
"Rumours had been spread that the project would be an environment disaster with heavy damage to agriculture in the region and that people must protest to the project. But all these misinformation had been proved incorrect as people had extended their fullest cooperation to the project," he added.
Addressing a progress review meeting of the Uma-oya multi purpose development project at the Karandagolla work site in Wellawaya, Minister said Rs. 800 million have been allocated to pay compensation to families displaced due to the construction of Puhulpola and Dayaramba reservoirs. The total number of acres that would go under water will be 612 acres and the number of houses will be 206.
The Puhulpola reservoir will connect Welimada and Uva–paranagama and constructs a hydro power station at Rakkitha hill which will add 120 MWS to the national grid.
The US$ 529 million (approximately Rs. 54 billion) mega development project which was incidentally the last large scale development project in Sri Lanka would help cultivate 25,000 acres of new paddy lands on its completion, Minister De Silva said.
People in the three districts, Hambantota, Badulla and Monaragala would have the opportunity to produce vegetables, fruits, milk and related products and drinking water to Mattala and Hambantota. The three districts would stand to become the richest districts in the country if the people exploited the opportunity wisely, he said.
Source: Daily Mirror - Sri Lanka