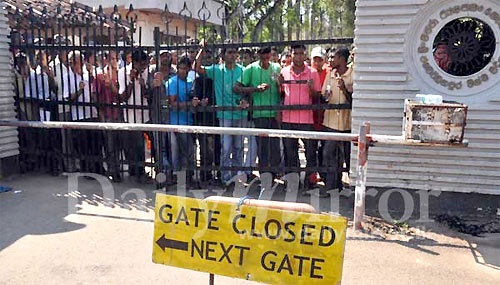 The government loses Rs 5 million a day with no productive outcome due to the closure of University of Sri Jayawardenepura, said its vice chancellor Dr. N. A. L. Karunaratne yesterday.
Dr. Karunaratne told Daily Mirror that the loss was incurred as the university had to bear the usual costs even though it was closed. "It is the people of this country who will have to bear this cost,' he said, explaining that more funds would have to be spent when holding extra sessions to make up for the lost time.
"Students who are protesting should understand this situation, as it is their parents who will have to bear the extra costs as they are taxpayers," he said.
He said the students should realise that they are losing the opportunity of competing with others, including those who pass out with external degrees, foreign qualified graduates and those who are doing professional courses such as CIMA and CIM.
Dr. Karunaratne who came up with a shocking revelation on this score said 52 percent of the graduates who had passed out from universities during the recent times were external students. "In such a situation the internal students should remember that they will face severe competition to gain employment, "he said.
Dr. Karunaratne who was referring to the recent incidents said one particular student union that is funded by the PRO-LTTE elements residing abroad were behind them. He made this point by quoting a statement by the Sanghanayaka of the USA, the Ven Walpola Piyananda Thera who had come across a PRO-LTTE Sri Lankan Tamil Expatriate. This expatriate had apparently told the Ven Thera that they were getting the university students and monks to do what they had been unable to do during the 30 year conflict.
The Vice Chancellor said this group was forcing the students to participate in various activities. Citing an example he said the union had told the students to be prepared for a certain happening within the university premises the day before they blasted the monument.
He said the disciplinary bodies of the university had suspended all the students who had been involved in illegal activities.
Dr. Karunaratne however said this union should be dealt with before the university was opened. Therefore he did not come up with a time frame for the reopening of the closed faculties.
Source: Daily Mirror - Sri Lanka