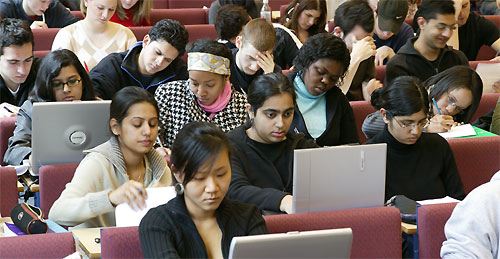 The Cabinet yesterday decided to withhold, for the time being, the proposed Quality Assurance, Accreditation and Qualification Frame Bill, which students and university teachers have described as an attempt by the government to set up private universities, informed sources said yesterday.
University teachers and students have staged protest rallies in different parts of the country in recent times against this bill, though the Higher Education Ministry had insisted that it was meant only to regulate the private institutions which conduct degree programmes in the country. In some instances, protesting students had even clashed with the police. The JVP has also opposed the plan to enact such a bill saying that it would pave the way for the privatisation of university education. The issue had been discussed at length at the Cabinet meeting chaired by President Mahinda Rajapaksa yesterday. It was noted at the meeting that private degree awarding institutions could be established in the country even under the prevailing laws.
However, Housing Construction and Engineering Services Minister Wimal Weerawansa had reportedly said that, if the proposed bill were enacted, it would be politically disadvantageous to the government.
"Everybody will say that it was the government of President Mahinda Rajapaksa that set up private universities," he told the meeting. The president who responded had said that the government should stop any discussion about this bill for the time being.
Higher Education Minister S.B. Dissanayake was absent during the meeting yesterday and, therefore, it was decided to take a concrete decision at the next meeting.
Source: Daily Mirror - Sri Lanka