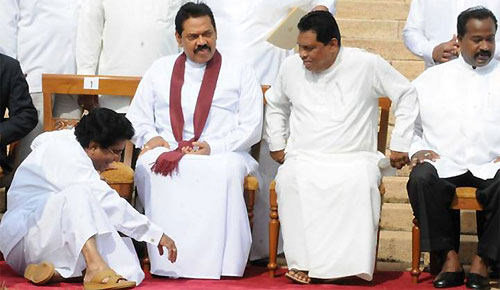 President Mahinda Rajapaksa had told Minister Mervyn Silva, that he was unable to intervene in the problems at Kelaniya since the UPFA nominees for the Kelaniya Pradeshiya Sabha elections were chosen solely on the recommendations of Mr. Silva, according to a highly placed source.
It was also revealed that the president had instructed Mr. Silva to resolve these issues with the help of the SLFP high command.
The president had told him so when Mr. Silva met him to discuss the problems that had arisen recently at Kelaniya. The president had categorically stated that he was unwilling to obtain the release of persons taken into custody by the security forces over crimes allegedly committed by them.
When candidates were selected to represent the UPFA at the local council elections it was done on the recommendations of the political authorities of the area -- and the nominations for Kelaniya were given to those recommended by Mr. Silva, himself, the president had said.
Source: Daily Mirror - Sri Lanka