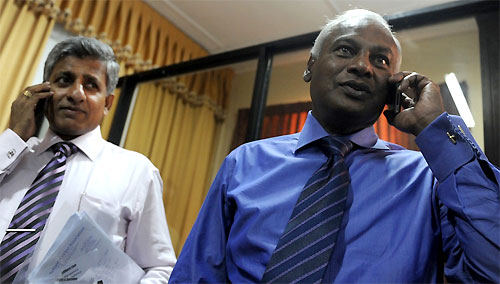 Sports Minister Mahindananda Aluthgamage referred to the newly elected Sri Lanka Cricket (SLC) president Upali Dharmadasa with obvious contempt and said Dharmadasa has to leave SLC if he can't "play ball" but paid glowing tributes to SLC'S secretary Nishantha Ranatunga saying that Ranatunga and himself are similar because they "both have brains".
Answering a question by a journalist about the SLC financial situation and why Minister and Ranatunga think similarly that there is no crisis, Minister said "We think alike because we both have brains."
"Nishantha Ranatunga and I are of the same opinion on the matter as he was in the SLC and he has a knowledge about it. I was the minister in charge of the subject for a year, so I have a knowledge about it," the Minister explained.
"However, people who came newly to this and those who don't know the subject have no idea about this," Minister Aluthgamage said.
"As the government would pay Rs. 3.5 billion, there is only a Rs. one and half billion problem. Those dues are the payments owed to the players and what had been spent on buying small, small things. They are the day to day expenses. That's it" he said.
The Minister also attacked the last interim committee headed by Dharmadasa for neglecting work.
"The secretary and me within the last month did more things than the last interim committee did in six months". He said referring to the period SLC was run by Sports Ministry Secretary Udaya R. Seneviratne as the Competent Authority.
"We went to the Bank of Ceylon. They said they would re-schedule our loan and give us Rs. 1.5 billion. We did not give anything to the BOC. We just gave them the FTP. FTP is the Future Tours Programme approved by the ICC," the Minister claimed.
"According to the FTP we will get Rs. 18 billion before 2018. So it is not impossible for them to give us 1.5 billion when we are to get 18 billion," Minister Aluthgamage said.
"Within this year alone we have an income of US $ 29 million. That is excluding the Australian tour. There is another one million dollars in that tour".
"This is only a temporary financial problem. This happened because of our inefficient handling of the situation. We expected this money to come. We knew this money would be deducted, despite knowing that we didn't face it properly. What we had to do was, if the money is to be deducted, to get loans, ODS and go. Any institution runs like that. There is no breakdown of cricket. There is only a small problem in managing it."
Minister also slammed Dharmadasa for predicting that it would take at least five years for SLC to recover financially.
"I am going to teach him today when we meet in the evening. Money will come and go. We have a projected income of US $ 29 million this year and 18 billion by 2018. Money comes and goes and we have to move it here and there a little bit and get it done. So, I am going to talk to the SLC President today and explain to him that there is nothing so big like that. Some people try to conjure things up to the media and become heroes. That is not necessary. I am going to tell the Board today" Minister Aluthgamage said.
The Minister was also not happy that Dharmadasa had dodged the question about World Cup spending saying that it is the minister who is responsible for investigating those matters.
"Cricket president can't pass the ball like that. If he can't play properly he will have to leave that place. He can't pass the ball. If he became the president he should take all that responsibility. If not, I have to take a decision about that," Minister Aluthgamage said firmly.
Source: Daily Mirror - Sri Lanka