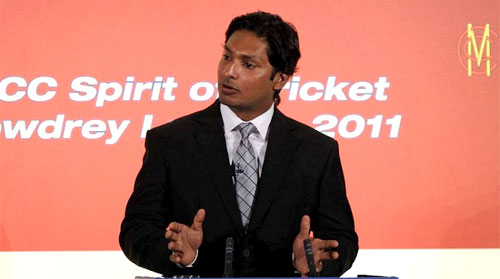 Sports Minister Mahindananda Aluthgamage criticized Kumar Sangakkara's famous Colin Cowdrey oration last year in England because he did not agree with Sangakkara's sentiments and likened his speech to Hashan Tillakeratne complaining about the SLC election to the ICC, which the minister earlier equated to asking US President Barack Obama to release Sarath Fonseka from jail.
"I was against it then; I am against it now. Players under contract have some conditions. Conditions specify what players can say and cannot. He informed us that he was going to make a speech but he didn't give us a copy of the speech for approval. If SLC is corrupt, when he was captain he could have told us," said the Minister.
"He didnít tell it to the Board, Minister or the country but what is the point of going to England and telling it to the foreigners? Cricketers have an agreement. According to the agreement cricketers can't speak like that".
"That is what I was going to inquire. But when I told that I was going to question him, you should have seen the comments I received from the readers in the websites and how people had vilified me. I feel sorry about my dead mother. When we try to discipline some one, people have a different idea," the Minister said.
Source: Daily Mirror - Sri Lanka