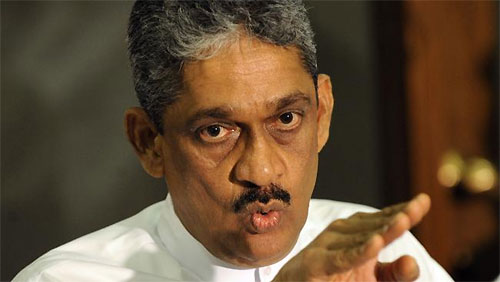 The 'People's Movement to Free Gen. Sarath Fonseka' said yesterday that various groups and individuals were trying to make deals with the former army commander by offering to get him released.
Kumara Alagiyawanna, the convener of the movement, told Daily Mirror yesterday that most of these elements were trying to get Mr. Fonseka to ask the president for a pardon. He said most of these deals were being offered by pro-government sources. He said some offers had even come from religious leaders. "Their intention is to help the government save its face by getting him to ask for a pardon and thus make him lose face," he said. "If Mr. Fonseka begs for a pardon people would look down on him," Alagiyawanna said; adding that that was exactly what these persons wanted.
However, he said, the former army commander had made it abundantly clear that he would not ask for a pardon.
Mr. Alagiyawanna said that the report that Fonseka's daughter Aprana had made an official request for a pardon (which had appeared on a web site) was false. He said that this was another ploy intended to besmirch Fonseka's reputation.
Source: Daily Mirror - Sri Lanka