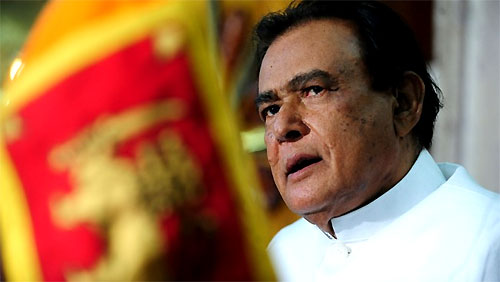 The Prime Minister yesterday said that government servants have no right to criticize government policies.
Addressing a function at his office, the Prime Minister D. M. Jayaratne yesterday said soon after the commencement of New Year's official work that the public servants who get paid from the money of the common man has no right to criticize government policies.
He said: "They can point out mistakes of the government. But they do not have the right to destroy the programmes of the government. Various development projects have been badly affected by anti-government campaigns."
"Government servants should fulfill their duties according to the policies of the government and the public servants have the ability and responsibility to protect resources for future generation". He said that government servants should be honest and dedicated to work for the people.
"No party problems should be in the government service. It is the middle class people who have the ability to develop a country. Rich people enjoy life and they do not feel the need to work for the common man."
"The poor people do not have the ability to take a decision on the path a country goes. But, it is the middle class that leads a general life. The majority of the public servants belong to the middle class. Therefore, it is this middle class that decides the path a country should progress and prepare it accordingly" the Prime Minister who addressed the festival said.
Children of the staff were given the opportunity to admire their talents in the field of education and the retired officers present were also felicitated.
Source: Daily Mirror - Sri Lanka