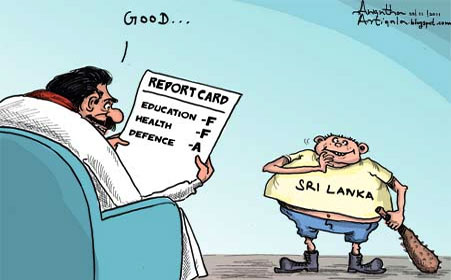 As we move into 2012 – which some see as a year of doom while others as a year of boom- we need to remember that politics has been defined as interest and concern in the affairs of the citizens. Going by that definition and studying the political situation in Sri Lanka today, it could be said that what is seen and heard is not so much politics but party politics where political leaders seek personal glory first for themselves and then for the family and party instead of sincerely, sacrificially and selflessly working for the welfare and wellbeing of all the people. Aggravating this crisis of deception is the dangerous trend towards the criminalization of politics and the politicization of crime whereby political thugs believe they can do anything or everything and get away with it by a political hook or with the help of some other crook.
The recent brutal murder of a British tourist at a hotel in Tangalle and the severe injuries if not sexual assault allegedly caused to his Russian girlfriend could be linked to the disgraceful levels to which party politics is played out in Sri Lanka today.
The Tangalle brawl and killing incident was similar to the political war in Mulleriyawa on local Election Day in October. Presidential advisor and senior SLFPer Bharatha Lakshman Premachandra was shot dead at point blank range and one of the suspects, MP Duminda Silva is reported to be undergoing treatment in a Singapore Hospital. But what will happen in this case and who will get away with what is a big question. A magistrate has issued a warrant for his arrest but the police are vague in their response apparently because as often happens, severe political pressure to distort the process of justice.
The hell of a mess over the GCE A/L results released last week is another case where deceptive party politics is dragging the vital sector of education into a blackboard jungle.
Party politics in Sri Lanka is so personal and party based, and with the 18th Amendment in place party politicians appear to be having the last word on most things, whether they are right or wrong. Therefore we need a paradigm shift as we move into 2012 in the body politic of Sri Lanka. Religious leaders and civic action groups similar to those we are seeing in the Arab Spring uprisings need to play a major role whereby we will have good governance, democracy, accountability, transparency and social justice for the people.
Source: Daily Mirror - Sri Lanka