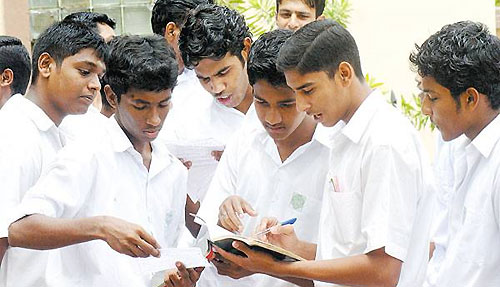 Out of some 300,000 students who sat the A/L examination in August, more than 150,000 may apply for re-correction as they had lost confidence in the results, which were released on Monday, because of the serious blunders by the Examinations Department, the Ceylon Teachers Union (CTU) said yesterday. CTU General Secretary Joseph Stalin said teachers and parents had asked the students to apply for re-correction as they believed that it was the only means of obtaining the correct results.
"Most of the students who sat the GCE A/L this year will apply for re-correction since the results were released twice this week and there is still suspicion about their validity as well as the district level and countrywide rankings. The government has failed to address this issue and has shown no signs of fixing it, so many of the children and their parents feel that applying for re-correction is the only means of getting a solution," Mr. Stalin said.
He alleged that the blunders made in the A/L results was yet another attempt by the government to increase their revenue as many of the students will apply for re-correction.
"The Department charges Rs.100 to recorrect each of the subjects and is likely to take another two months before they are released again which will create further inconvenience for the students," Mr. Stalin said and added that the Examinations Department had not decided on the Z-score and on what basis it would be applied to students who sat under the old and new syllabuses. "The department should have decided this before the exam papers were prepared. Instead they struggled with it just only when the results were about to be released," he said.
Mr. Stalin said the union would consider legal action if the government did not release the results again after a thorough inquiry into the blunders that occurred.
He said in September it was announced that the results would be released before the third school term but even by the end of November paper marking was not completed.
"It is obvious that the Education Ministry does not function in an orderly manner and have ignored this issue. If they bring down the standard of education in Sri Lanka down to this level, students will look for alternative courses of study such as London O/L and A/L," Mr. Stalin said.
Source: Daily Mirror - Sri Lanka