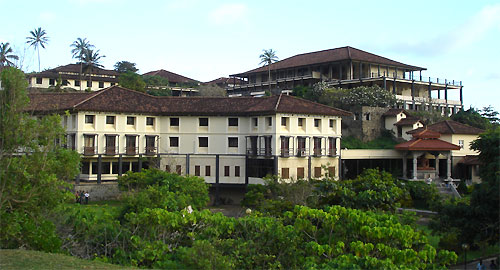 The Ruhuna University ragging victim's mother Nirmala De Soyza (52) blamed the members of the Ruhuna University Students' Union for ruining her daughter Wathsala Kumudini's life, but student union leaders denied the allegation and said the girl's mother was being used by the government to divert attention from its move to set up private universities.
Ms. De Soysa told a news conference organized by Higher Education Minister S.B. Dissanayake that ragging was cruel, indecent and beastly and it was a national duty to put an end to this type of inhumane ragging at universites.
"Yes, my daughter Wathsala had a minor ailment on her spinal cord and she was excused from heavy exercises at the leadership training programme she underwent prior to university entrance," Ms. De Soyza said.
Recalling her daughter's harrowing and degrading experience she said Wathsala had been forcibly made to speak out in filth by her seniors and then asked to do extremely difficult exercises even after she told them about her spinal ailment.
"It was after this they have had pushed my daughter harder and threatened to continue with her workouts. At that point she had fainted when she suffered unbearable pain in her spinal cord. My daughter is now at the Colombo National Hospital.
Source: Daily Mirror - Sri Lanka