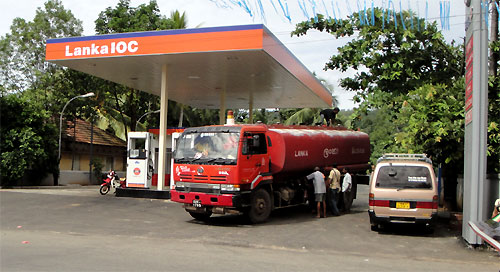 A 'Flying Squad' has been formed at the CEYPETCO to conduct surprise checks on filling stations to ascertain whether they issue fuel to the accepted standard and quantity, a spokesman of the Petroleum Industries Ministry said yesterday.
The formation of a Flying Squad was the result of a large number of complaints received by the Petroleum Industries Minister Susil Premajayantha from motorists, he said.
Since its inception the Flying Squad has been able to conduct 439 surprise checks and detect 12 filling stations that had issued sub-standard fuel to motorists. The CEYPETCO had collected Rs. 24 million from them as a bond and if they failed to correct their machines and issue the correct quantity of fuel to motorists, their permits and the bond would be prohibited, the spokesman said.
"Minister Premajayantha has instructed officials to ensure every motorist gets the highest quality fuel and not to make room to repeat the same blunder that occurred" he further said.
The formation of the Flying Squad follows the import of a stock of 20,000 metric tons of substandard petrol in June this year. Minister Premajayantha appointed a three member committee headed by the Power and Energy Ministry Secretary M.M.C. Ferdinando. The committee recommended paying ample compensation to motorists whose vehicles were affected by pumping substandard petrol, the spokesman said.
Accordingly, Rs. 15 million had been paid as compensation so far to nearly 1,000 victims, he added.
Source: Daily Mirror - Sri Lanka