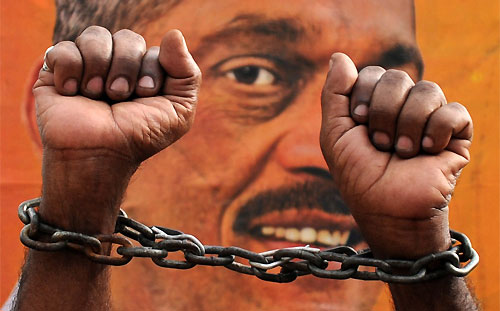 Prime Minister D. M. Jayaratne said though various factions were campaigning for the release of former Army Commander Sarath Fonseka by petitioning Obama, the UN and Geneva, they would be of no avail as only President Mahinda Rajapaksa could pardon him.
The Prime Minister was addressing a function organised by the Joint Organisation of the Government Pensioners and the Kandy District Public Servants' Pension Association to felicitate pensioners at the Up-country Arts Society Hall.
In 1962 the chiefs of the army were imprisoned but then there were none to request pardon for them.
The Premier said some of these people wanted to create unnecessary problems in the country like what is seen in other countries.
The government would support if any programme is implemented for the economic development of pensioners, he said.
"I am also a pensioner like you having retired from government service. If you are determined to work, the age limit is immaterial. Many intellectuals became world famous after the age of 60," he said.
Source: Daily Mirror - Sri Lanka