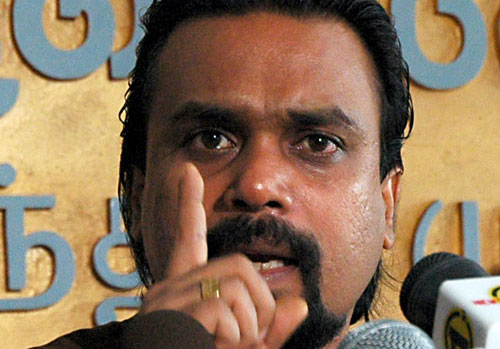 It is sad to witness that today's youth have absorbed only the negative effects of the TV and run for a world of dreams which is hollow and tasteless, Construction, Housing Engineering Services and Public Utilities Minister Wimal Weerawansa said.addressing a ceremony held in connection with the signing of a bilateral agreement between the National Construction Association of Sri Lanka (NCASL) and the Sri Lanka Vocational Training Authority (SLVTA), Minister Weerawansa said some 340,000 children enter schools at grade I every year. But only 21,000 out of them enroll for university education annually. Among them it is only a very few who study engineering, architecture, surveying and quantity surveying which shows the weaknesses of the national education system.
"If it is only a less than 0.5% out of the entire student population pursues a stream connected to the construction sector, there is some thing extremely lacking in our education system. This is the reason for the increase of unemployment every year as the education system does not meet the national and individual requirements. It is a subject based system. Therefore, the existing system will not address the national needs and will contribute to aggravate the problems," Minister Weerawansa emphasized.
Minister Weerawansa stressed that Sri Lanka does not have an unemployment problem. The problem is there are no qualified persons for jobs. Therefore, the education system must focus on producing a generation with right qualifications demanded in the state and corporate sector. The requirements of the construction industry, science and technology sector or agricultural sector cannot be adjusted to suit the qualifications and needs of individuals. Therefore, individuals must be determined and adjusted to the needs of the public and private sector, he stressed.
There are no masons, carpenters or plumbers among the heroes in the dream world or TV soap opera but among villains. This gives a wrong message to the youth. This mentality can be harmful to the society than AIDS, Minister Weerawansa pointed out.
He added that people must learn to value a job on the service it renders to the country or society but not on the name or title of the job.
Youth affairs and Skills Development Minister Dullas Alahapperuma, deputy minister Salida Dissanayaka and Defence Ministry Secretary Gotabaya Rajapaksa were present at the ceremony.
Source: Daily Mirror - Sri Lanka