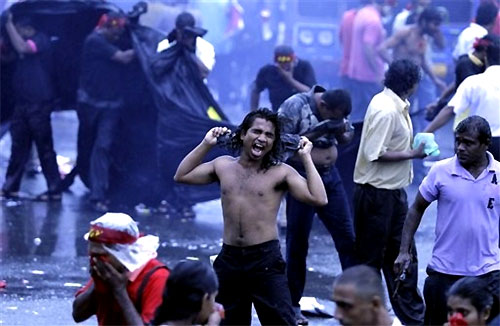 The Inter-university Students' Federation (IUSF) yesterday warned that student unions at all universities in the country would march to Colombo for a massive protest over the government's suppression of students' rights.
IUSF President Sanjeewa Bandara said 30 student unions had been suspended by the government in an attempt to suppress the university student body.
"This has been done to silence our voice and to prevent us from holding protests. If this is a democratic country we would be allowed to voice our views. But this is not the case," Mr. Bandara said.
"If they decide to suspend all unions we will protest together as university students. We don't need to be a part of a union to express ourselves and practice our fundamental rights," he said and added that a growing number of university students who have opposed the government are being threatened and not allowed to attend university lectures.
Mr. Bandara warned that the coming year will see changes to the country's education system with the introduction of the Private Education Bill in parliament in January and it would even threaten Sri Lanka's free education system.
"We will soon see a day when the farmer and the labourer will not be able to send their children to university as they will not be able to afford it. University vacancies will not be based on your child's credentials but the amount of money you can afford to spend on their education," he said and added that if student unions continued to be banned and the government continued to intervene in university affairs then we will take legal action and file a complaint with the Human Rights Commission.
"We challenge the government to stop us if they think they can. We challenge the police and the military as well. They cannot stop us and we will continue to fight for our rights and we will not allow the government to intervene in matters involving local universities," Mr. Bandara said.
The Peradeniya Student Union Leader Mahesh Prabhashwara Lanka said that the Peradeniya university students' protest march from Peradeniya to Colombo which was temporarily suspended would be held next week.
Source: Daily Mirror - Sri Lanka