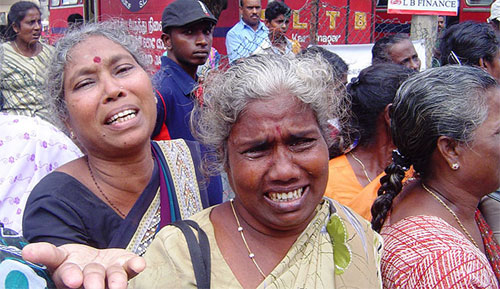 The Supreme Court refixed for support on February 2 for leave to proceed with the 61 fundamental rights petitions filed in respect of the alleged ensuing reprisals on the residents by military and police at Navanthurai, Jaffna in the aftermath of the incidents of 'Grease Devil' phenomenon.
The Bench comprised Chief Justice Shirani A. Bandaranayake, Justices Chandra Ekanayake and Suresh Chandra.
Counsel Kanag Iswaran appearing for the Petitioners moved for time to file Counter Affidavit. The Court granted time to file the same within one month.
Petitioners are residents of Navanthurai. Kanag Iswaran PC with Ms Shantha Abimannasingham PC, M. A. Sumanthiran, Viran Corea, Bavani Fonseka, L. Jayakumar and R. K. Guruparan instructed by Mohan Balendra appeared for 31 petitioners. Instructed by S. M. M. Samsudeen, K .S .Ratnavale appeared for 11 Petitioners; B.n.thamboo for 8 Petitioners; Puvitharan for 6 Petitioners; J. C. Weliamuna, Saliya Peiris, Pulasthi Hewamanne and Pasindu Silva, Sanjeewa Ranaweera appeared for other petitioners.
Iruthayanathan Veenas Regi in his petition cited Defence Secretary Gotabhaya Rajapaksa, Army Commander Jagath Jayasuriya, Jaffna Security Forces Commander Mahinda Hathurusinghe, IGP N. Illangakoon, Commander of 51 Division Janaka Walgama, Commander of 512 Brigade Ajith Pallawala, DIG Neil Daluwatta, SSP Nevil Pathmadeva, ASP A. M .C. A. Bandara, HQI Saman Sigera, Woman Police Constable Nadeeka and the Attorney General as Respondents. Some of the petitioners cited Defence Minister as well as one of the Respondents.
Source: Daily Mirror - Sri Lanka