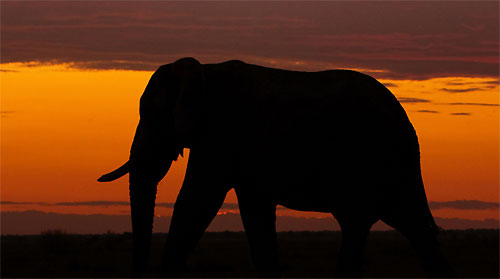 People living in villages around Kataragama live in constant fear of elephants because the electric fence bordering the Yala Sanctuary has broken down exposing them to wild elephants They blamed the officials of the Wildlife Conservation Department for neglecting the maintenance of the fence and effecting repairs to the electric fence thus exposing the villagers to the threat of wild elephants that also raided cultivated lands and ruined the crops.
A farmer of Kochchipana Piyasena Samarawickrama, (62) said that several villages in the area were facing the wild elephant threat, but that repeated requests to wildlife officials to repair the electric fence had gone ignored. "I am a traditional farmer depending on the cultivation of vegetables and subsidiary crops to make a living. The wild elephant menace is a great deterrent to any type of agriculture. The nuisance and the dangers posed by wild elephants has compelled many farmers to stop cultivating their lands and turn to other trades. We work in the intense heat of the sun and after returning home we spend the night without a wink of asleep afraid of wild elephants. More than 2000 acres of forest reserve at the foot of the Wedihiti Kanda is home to the herd of elephants that invade end and looked forward to cultivate our lands once again. Our villages will be safe from wild elephants if the electric fence is properly maintained. Recently a herd that raided my home garden pulled down eleven coconut trees in bearing. In addition to the elephants, herds of cattle from Tissamaharama and Lunugamwehera areas ruin our paddy fields. More than 10,000 stray cattle are found in the area for want of grazing grounds. The owners live in other areas," Anura said.
Meanwhile, Range Wildlife Conservator Karunasena Vitharana who admitted that the electric fence had broken down and put the blame on the villagers had this to say. "Maintaining the electric fence under the Gajamithuro programme is a responsibility of the villagers. But they are not cooperating with us. The 15- year -old electric fence has broken down due to natural causes. However, we would take steps to restore the fence when adequate funds are available," he said. villages at dusk. I had a narrow escape when a jumbo pulled down the hut in my Chena. To my great fortune, it started to eat the food items in the hut and I manage to run away and escape. One of the school buildings was recently destroyed by elephants," he said.
W.a.anura (42) is a paddy cultivator and the breadwinner of a family of four school going children. He said the villagers who faced the LTTE threat for more than 30 years were now facing a problem with wild elephants. "The security forces wanted us to leave our traditional villages for safety, but as people who depended on agriculture we had nowhere to go. We heaved a sigh of relief when the war came to an
Source: Daily Mirror - Sri Lanka